You can now receive email notifications when new articles are posted to this website!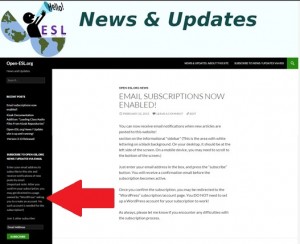 Find the "Subscribe to Open-ESL.org  News / Updates via email" section on the informational "sidebar" (This is the area with white lettering on a black background. On your desktop, it should be at the left side of the screen. On a mobile device, you may need to scroll to the bottom of the screen.)
Just enter your email address in the box, and press the "subscribe" button. You will receive a confirmation email before the subscription becomes active. From that email message, click the "Confirm Follow" button/link.
Once you confirm the subscription, you may be redirected to the "WordPress" subscription/account page. You DO NOT need to set up a WordPress account for your subscription to work!
As always, please let me know if you encounter any difficulties with the subscription process.